The 8 Best Pet-Friendly Luxury Hotel Chains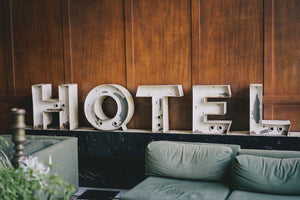 Over the past few years, luxury hotel chains have become increasingly friendly towards four-legged guests. The W Hotel, for instance, now pampers pets with a W Hotels pet tag, clean-up bags and a custom W pet bed (to name just a few of the amenities).

Why the sudden hospitality? For one, a growing majority of U.S. households have pets, 65% according to an American Pet Products Association (APPA) estimate. What is more, most households view their pets as members of the family and are therefore hesitant to leave their pet behind on family vacations.

And let's not forget that hotels have something to gain from a pet-friendly stance: fees. While many discount hotel chains accommodate pets for no extra charge, several luxury chains charge over $100 per pet stay.
Here are the top 8 luxury hotel chains for pet owners.
1. Mandarin Oriental Hotels
The Mandarin Oriental accommodates pets up to 30 lbs and includes luxury amenities such as a keepsake golden collar tag, special treats, food and water bowls, pet beds and even all-natural pet food. These luxuries come at a cost, however. The hotel requires a pet deposit of USD 250, 100 of which is refundable upon check out.
Visit the homepage of Mandarin Oriental
2. W Hotel
The W Hotel's Pets Are Welcome (P.A.W.) program allows pets up to 40 lbs and offers a custom W pet toy, pet bed and other services including pet sitting and dog walking. One pet is allowed per room, and a pet waiver must be signed at check in.

Special Tip: To avoid the pet fee, consider other Starwood Hotels. In certain cities, Starwood properties including Sheratons and Westins allow pets for no extra charge.
3. Loews Hotels
All of Loews hotels are pet friendly. The hotel chain's Loews Loves Pets program allows two pets per room and offers pets a name tag, bowl and special treats. Loews hotels also loan pet beds, litter boxes, scratching posts and other essentials. Special services include pet sitting and pet walking. Pet owners must show up-to-date vaccinations upon check in. Unlike some of its luxury hotel counterparts, Loews charges a modest pet fee of $25 per stay and doesn't enforce a weight limit.
4. Ritz Carlton Hotels
Not all Ritz Carlton hotels accommodate pets, but the ones that do offer treats and toys, beds and bowls, and other special loaner items like a Burberry raincoat. Pets come with a charge ranging from USD 150 to 250 at most properties.
Special Tip: Ritz Carlton is owned by Marriott. To avoid the pet fee, consider other Marriott locations.
View a comprehensive list of pet-friendly Marriott hotels worldwide.
5. Hilton Hotels
Hilton welcomes pets and includes dog bowls and a placemat upon check-in. Your pet will also get "his or her own travel tote with organic treats, bio-degradable waste bags, and a travel-sized bottle of deodorizing disinfectant." Hilton charges a $75 per stay pet fee, limits pets to 75 lbs, and requires a pet reservation in advance. Two pets are allowed per room.
6. Kimpton Hotels
Kimpton Hotels were one of the first higher end chains to welcome pets. The hotel offers amenties such as pet-bed loaners, food and water bowls, waste bags and mats. There is no weight limit and no limit on number of pets allowed. Kimpton Hotels even have nightly wine receptions where pets are welcome! Unlike most other luxury chain, Kimpton Hotels do not charge additionally for pets and no deposit is required.
View Kimpton Hotels' Pet Policy
7. Four Seasons Hotels
Not all Four Seasons hotels allow pets, but the ones that do offer amenities like pet beds and food and water bowls. In general, the Four Seasons properties that allow pets do not charge for their stay.
Aloft - Django's Team Favorite
We were hesitant to put Aloft on this list given it has less 'luxury' status than the 7 hotel brands listed above. Although the hotel boasts modern, updated rooms and high quality conditions, it is no Ritz Carlton or W Hotel. That said, Team Django loves Aloft and here's why:
Aloft does not charge a pet fee, and all Aloft chains welcome dogs. Dogs up to 40 pounds are welcome, but larger dogs can sometimes stay with a special waiver (call your Aloft location to discuss). Most Aloft hotels also have a pet-friendly program - this pet initiative provides visiting pets with a special bed, bowl, and doggie bag full of treats, toys, and waste bags (all complimentary).
Leave a comment
Comments will be approved before showing up.