Dog Nutritional Requirements and Tips for A Balanced Diet and Healthy Life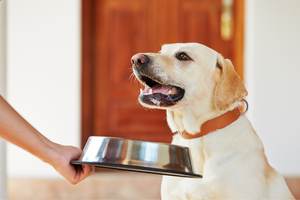 This post is sponsored by Shameless Pets.
Dogs, like the humans that care for them, have unique and important dietary needs. For this DJANGO Dog Blog article, we partnered with popular U.S.-based pet treat brand Shameless Pets to offer a comprehensive overview of our four-legged furends' specific nutritional requirements. By better understanding how to offer our pups a balanced diet, we can ensure they live their longest, happiest, and healthiest lives by our sides.
Key Elements of Good Canine Nutrition
Dogs need a well-balanced diet with the following building blocks:
Protein

Fat

Carbohydrates

Vitamins

Minerals

Water
Dog Nutritional Requirement Percentages
There are many different perspectives on the right ratio of protein, fat, and carbohydrates in a dog's diet, but the team at Fetch by WebMD state that an adult dog's diet should deliver:
At least 10% of its calories from protein

At least 5.5% from fat

No more than 50% from carbohydrates, which can include 2.5 - 4.5% of total calories from fiber-based nutrients. 
Recommendations may vary if you have a puppy or senior dog since the number of calories often varies substantially based on dog age. The National Academies, for example, believes puppies should receive twice the caloric intake as a similar-sized adult dog; senior dogs, roughly 20% less than an adult dog of the same weight), not to mention size and activity level.
Important Vitamins and Minerals for Your Dog
Vitamins and minerals are naturally present in many foods dogs eat, and typically it is unnecessary to provide your dog with supplements if you are feeding him or her a nutritionally-balanced and high quality dog food. Some of the most important vitamins and minerals for dogs include:
Vitamin A
Vitamin D
Vitamin E
Vitamin K
B-complex vitamins
Calcium
Phosphorus
Water and the importance of hydration
The typical dog should drink around one ounce of water per pound weighed per day, according to the Emancipet Clinics. This means that a 10-pound dog should drink somewhere between half and three-quarters of a typical 16.9 ounce water bottle, while a 60-pound dog should drink closer to 4 of them.
If your dog doesn't seem to be drinking enough water throughout the day, consider adding a few more drops to his or her breakfast and dinner bowl.
What about doggy treats?
Dog treats can certainly be part of a balanced diet, although they should never take the place of high quality and nutritionally-balanced dog food. To ensure your pup is getting the highest quality calories from treats, consider reputable doggy treat brands like Shameless Pets.
Shameless Pets offers a varied selection of high quality, protein-packed, and drool-worthy dog and cat treats. All treats are made with natural and nutrient-rich ingredients such as chicken, duck, sweet potato, blueberries, banana, apple, and more.
Benefits of Good Canine Nutrition
Why is good nutrition important for dogs? With a well-balanced diet, your dog will be able to maintain a healthy weight, have plenty of energy, and realize several other health advantages throughout his or her life. Here we outline the benefits of proper canine nutrition and also highlight our favorite Shameless Pets dog treats that support these key qualities:
Although we have all been known to spoil our canine companions on occasion, we agree with veterinarians that pet treats should be a small part of a pet's diet. Always make sure to review the back of any pet treat bag to confirm recommended daily quantities based on your pet's size.
–
Shameless Pets celebrates the triumphs of finding ways to waste less— transforming misfit and surplus produce into treats for cats and dogs. All Shameless Pets treats are a nutritionist crafted way to shamelessly make your pet smile and make a positive impact on the planet. You can find them on their website, many local independent pet stores, and major retailers including Amazon, Chewy, Whole Foods, Grove Collaborative, and more.
2 Responses
Leave a comment
Comments will be approved before showing up.