Even if your dog is the most well-trained pup, pee accidents happen. Our dachshund Django, for instance, is well trained and housebroken. Every so often, however, Django will have a pee accident in our house. Usually this happens when we're distracted by work or busy with our toddlers and forget to take Django outside on time. Occasionally a pee accident will happen simply because Django gets super excited and can't control his bladder.
So, what are the best rugs for dogs? What types of rugs are best for families with small children? What rug fabric types are best for dog owners?
In this DJANGO Dog Blog article, we highlight the best types of rugs for dogs, families with kids, and pets. We consider durability, stain-resistance, and ease of cleaning. Are you looking for a dog-proof rug and pee-proof rug? Keep reading!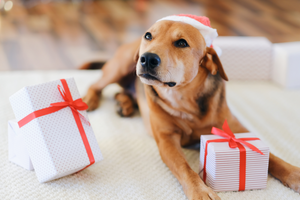 Calling all dog lovers and four-legged family! Unleash happiness this holiday season with our thoughtful dog lovers gift guide that is sure to have tails wagging and hoomans grinning. From beautiful handcrafted cotton rope dog leashes to super stylish weatherproof boots to drool-worthy dog treats, we (DJANGO) have rounded up the crème de la crème of dog gifts for you and every devoted dog lover in your life.
One more thing? We have included incredible discounts for most of our best dog gift recommendations! We have a wide-reaching, dog loving audience, and almost all brands have given us exclusive promo codes for our pawsome readers. Happy shopping, furends!
Since launching our Instagram account (
@djangobrand
) in 2016, we have made 42.6K dog (and cat) loving friends. Since then, other Instagram pet shops and boutiques on  that make dog accessories and apparel have caught our attention. From Bean Goods to Arya Sit!, we list our favorite small pet businesses on Instagram to support and shop from. Pet products range from novelty print dog bandannas to dog mom apparel.