Bark Dog Food 2023 Review + Coupon Code: How Good is It Really?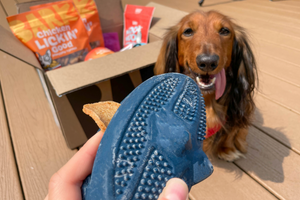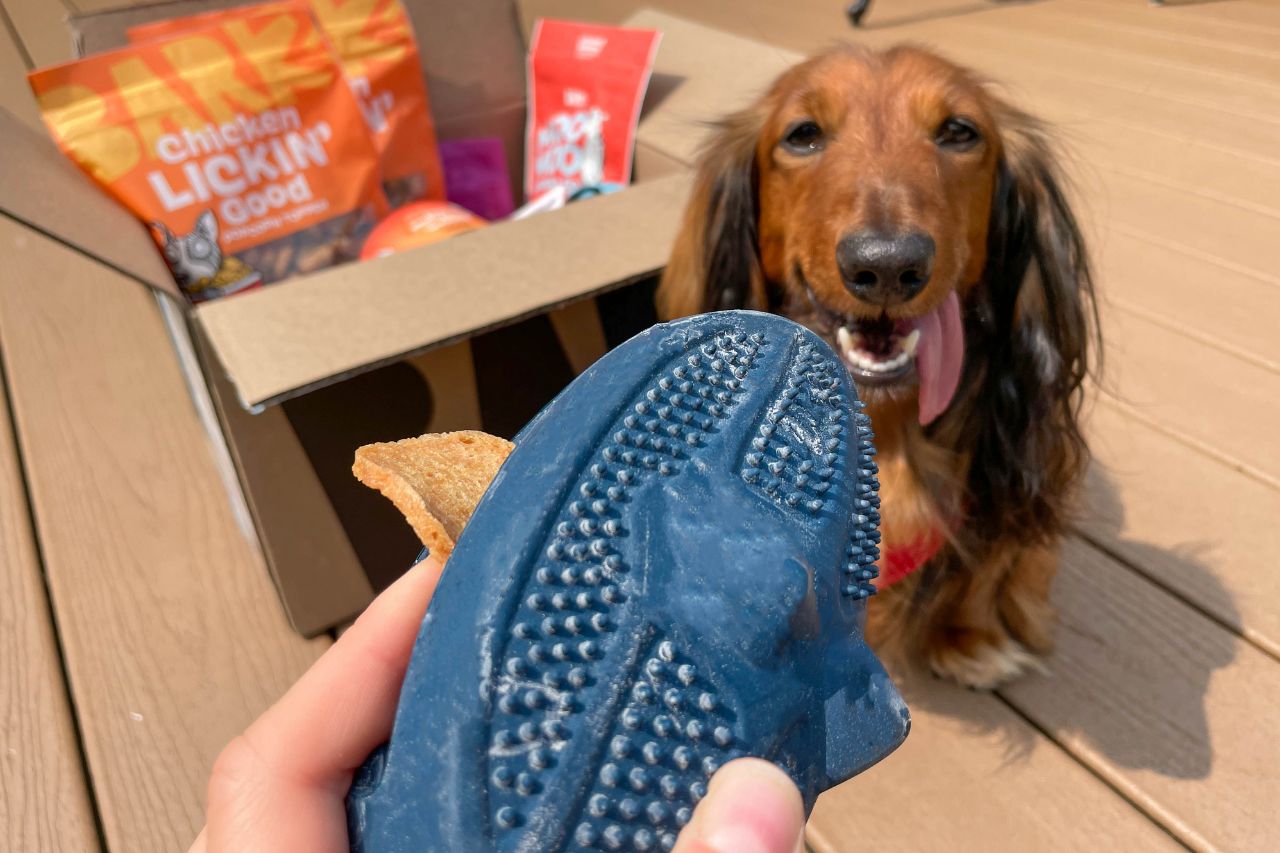 Disclaimer: Some of the links below are affiliate links. This means if you purchase an item, we may receive an affiliate commission at no extra cost to you. We only recommend products we know and love, and all opinions expressed here are our own.
BARK products have been a staple in our family's household ever since we brought home our adorable longhaired dachshund, Django. For years we (Steph and Mike) have gotten Django BARK's most popular monthly subscription doggy boxes, BarkBox and Super Chewer. These themed boxes are delivered right to our door each month and include the cutest dog toys and tastiest dog treats and chews. We've never seen Django more excited than when a new BARK delivery arrives for him.
Last year we began giving Django a BARK Bright dental chew each day to help boost his dental health. In the past, we would wrestle Django to brush his teeth and had to come up with a creative solution for teeth brushing (see more here!). With BARK's doggy dental chews, we simply squeeze chicken flavored, triple enzymatic toothpaste onto a chew. BARK's chew and toothpaste combo works to fight plaque and tartar while freshening doggy breath. Django treats the dental sticks like a high quality dog treat, and he is obsessed with getting one at lunchtime.
When we heard about BARK Food's premium dog kibble, dog treats, dog supplements, dog toppers, and meal-enrichment dog toys, we couldn't wait to try them with Django. In this DJANGO Dog Blog article, we offer a complete overview of all BARK Food products. We also discuss how BARK Food's subscription works. Finally, we explain how its food-dispensing dog toys can benefit your pup.
BARK FOOD 30% OFF DISCOUNT CODE:
DJANGO Dog Blog readers get 30% off BARK Food with this coupon link. Simply click this link (or enter code 30DJANGO on the checkout page) and a 30% off BARK discount will automatically be applied to your first order.
WHAT IS BARK FOOD? 
BARK Food is a dog food delivery service that offers premium dry dog food, dog treats, dog supplements, dog toppers, and meal-enriching dog toys. All BARK Food products are made with high quality, single source animal proteins, such as all natural chicken or beef liver, from farms in the USA. Subpar and unhealthy ingredients like corn, wheat, soy, artificial flavors, preservatives, and genetically modified organisms (GMOs) are never used in BARK Food recipes.
Where is BARK food made? All BARK Food products are made by a skilled food safety and food science team in Kansas, United States. The New York City-based company also has a 100% happiness guarantee. Specifically, if you are not satisfied with BARK Food's premium dog kibble or add-ons (i.e., dog supplements, dog toppers, dog treats, dog toys, dog food bowls, etc.), BARK will refund your money or replace the product. 
Subscription? Yes. While you can make a one-time purchase, you can save 10% by enrolling in an ongoing dog food subscription. You can also choose to have your dog food and add-ons delivered every two, four, or eight weeks. If you sign up for a BARK Food subscription, the price will be locked in for your pooch's lifetime. Depending on your BARK Food product selections, subscription prices typically range between $25 and $50.
BARK FOOD PRODUCTS & OUR FAVORITE PICKS FOR DJANGO
BARK Food currently offers 4 different dog food product categories: premium dog kibble, dog toppers, dog supplements, and dog treats. We highlight many of BARK Food's customer faves below and also mark Django's personal favorites for your reference.
BARK FOOD DOG KIBBLE 
BARK Food has 4 different adult dog food recipes and 1 puppy-specfiic dog food receipe. All dog food receipes except one are offered in 15 lb bag sizes, and customers can choose between a one-time purchase and an ongoing subscription.
✨ DJANGO FAVORITE ✨ BARK's 'Cock-a-Doodle-Chew' Chicken and Brown Rice adult dog recipe is a personal favorite of Django's and something we regularly feed him. This protein-packed dog food recipe contains USA sourced chicken and wholesome whole grains like oatmeal and brown rice.

The "Kibble of the Sea" Alaskan Pollock and Brown Rice adult dog recipe is made from sustainably-sourced Alaskan Pollock and gently cooked grains like pearled barley. The ingredients in this one support skin and coat health.

BARK's "Gobble Gobble Grain-Free Gibble" Turkey and Sweet Potato adult dog recipe is grain-free and includes 

US sourced turkey 

and nutrient-dense carbs like butternut squash, pumpkin, and sweet potato to aid in digestion

.
The "Itty-Bitty Chicky" chicken and brown rice formula features bite-sized kibble for small dog breeds and comes in a 4 lb bag (compared to the others which come in a 15 lb bag). We've also tried this one for Django since he's only 13 lbs. I personally prefer getting a larger 15 lb of food, however, and so we've stuck with the 'Cock-a-Doodle-Chew recipe for our home. This is a great option if your dog needs smaller kibble bites during mealtime.
"Little Buddy Bites" is BARK's puppy-specific recipe. This one includes high quality ingredients like chicken, dried eggs, and flaxseed and is formulated to meet the nutritional needs of growing puppies.
BARK DOG FOOD TOPPERS
We and Django have tried several of the dog food toppers that BARK Food currently offers: sprinkles, broths, and bites.
SPRINKLES
Moo Moo Sprinkles (✨ DJANGO FAVORITE ✨), Bada Bing! Bada Beef, Wham Bam Thank You Ham, and Pour Some Chicken On Me Dog Food Toppers are packed with more than 50% crude protein. 
Django is obsessed with his Moo Moo Sprinkles Dog Food Topper and has been from day 1. This topper is made from raw, freeze dried beef liver and has a strong scent that Django goes crazy for. For full disclosure, Django has had freeze-dried beef liver before and loved it, so I knew this one would be a hit with him. 
BARK's other dry dog food toppers are made with two ingredients: high quality animal protein (i.e., beef liver, pork, or chicken) and rosemary. 
BROTHS 
✨ DJANGO FAVORITE ✨ BARK's "Pumpkin, Spice, and Everything Nice" Food Topper is made with pumpkin, coconut flakes, cinnamon, honey, ginger, and vanilla. The meal-boosting mix-in rehydrates and turns into a broth when you mix it with a 1/2 cup of water, adding essential moisture and gut-boosting fiber to your pup's diet. This one smells like a delicious pumpkin pie, so it's no wonder Django loves this!
Right now BARK Food is offering a great promotion where for $12 extra, when customers purchase the "Pumpkin, Spice, and Everything Nice" food topper, they receive a BARK food-enriching toy and two bags of jerky nibble dog treats.
BITES
BARK Food has 2 different bite-sized dog food toppers for mealtime. 
✨ DJANGO FAVORITE ✨ The "Chicken Lickin' Good: Popcorn Dog Food Topper is made from real USA sourced chicken. The nugget-shaped, semi-moist bites also include other ingredients, such as oat groats, pearled barley, and pork stock. The texture of these is firm but chewy, and Django drools over these every time I offer him them.
The "Pork Liver Crunchies" Dog Treats are made with 100% pork liver. They are more than 64% crude protein. We haven't had a chance to try this one yet, but the customer reviews are excellent, and the rating is even a bit higher than the "Chicken Lickin' Good' topper we love.
BARK DOG SUPPLEMENTS
BARK Food has 3 popular bacon-flavored dog supplements: Fur Cozy Coats, Hip Hip Hooray, and a Calming Aid for Dogs. For full transparency, we haven't yet tried these for Django. If anyone else has, let us know what you think in the comments!
The "Fur Cozy Coats" dog skin and coat supplement features flax seed, brewer's yeast, Omega 3 fatty acids like salmon oil, and eggshell meal to promote a shiny coat and healthy skin.
The "Hip, Hop, Hooray!" soft chews are packed with joint and cartilage-boosting nutrients like collagen peptides, omega-3 fatty acids, and natural sources of chondroitin sulfate and glucosamine.
Calming Aid for Dogs is made with ginger to soothe sensitive stomachs and L-Theanine to ease stress and anxiety. These bacon-flavored dog supplements also double as treats, so you will not have to hide treats in pill pockets or dog food.
BARK DOG TREATS
We've been feeding Django BARK dog treats for years since they are always included in Django's BarkBox and Super Chewer monthly dog subscription boxes. In our experience, BARK dog treats are always high quality, always delicious smelling, and always a hit with Django.
BARK Food now offers soft-baked, crunchy, and jerky dog treats. Most BARK Food dog treats come in 2-3 packs.
BARK Food's "Pork Liver Crunchies" and "Beef Liver Crunchies" are made with 100% pork or beef liver. 
The "Chicken Lickin" and "Cheesy Peasy Soft Bakes" recipes feature animal proteins and cheddar cheese from USA farms.
The Gobble Jerky Bars (✨ DJANGO FAVORITE ✨), Mega Moo Jerky Bites, and Beef Recipe Jerky Bars are made with 

USA-sourced and protein-rich turkey and beef. They also include other ingredients like barley oats, cane molasses, and sweet potato.
BARK DOG FOOD COUPON CODE:
Get 30% off your first BARK Food order! Use this link, and the discount will instantly be applied to your first order!

BEST TREAT DISPENSER TOYS FOR DOGS
Some of Django's favorite toys are his meal-enriching ones. With these, I can hide and stuff treats inside his toy. Django ends up playing with these treat-dispensing toys for long periods of time—longer than he plays with any of his other toys.
BARK Food offers enrichment dog toy bundles that can be enjoyed by pups of any breed, age, or size. One of our favorites is BARK's Paw n' Jaw Treat Puzzle Bundle. This dog toy and treat bundle comes with a heavy duty, natural rubber Hammer Fed Shark Dog Toy. The shark dispenses dog treats during play while simultaneously cleaning Django's teeth and keeping him entertained for 15-25 minute intervals. 
Django also loves his BARK Food vanilla-scented Sugrrr Cone Dog Treat Toy. Because Mike and I are busy juggling our rambunctious 4-year-old toddler and a 15-month old baby with our travel and adventure dog accessories and apparel, aptly named DJANGO, we love that these toys entertain Django, are durable, and dishwasher safe.
THE BENEFITS OF INTERACTIVE AND TREAT DISPENSING DOG TOYS
Whether you are working from home like me or working in an office every day, meal-enrichment toys can keep your four-legged friend from getting bored. They may help your dog self-soothe during times of anxiety and stress (e.g., thunderstorms or fireworks). Food dispensing toys for dogs can also prevent common depression, hyperactivity, and obsessive/compulsive behaviors like barking or tail chasing.
Work-to-eat dog toys can also direct your pup's energy, which prevents or resolves common behavior problems like chewing on furniture, shoes, shrubbery, etc. They can help senior dogs with physical limitations or painful conditions, like canine arthritis, get more exercise. Food-stuffable dog toys mentally work your older dog's brain through smell. They can even expose puppies to new sights, smells, and textures that help develop their brains.
FINAL THOUGHT: IS BARK FOOD WORTH IT?
There are endless dog kibble, dog treats, dog supplements, dog toppings, and meal-enrichment dog toys on the market. Walking down the dog food aisle at a local pet store can be overwhelming.
I am thrilled that BARK Food now offers high quality options for our long-haired dachshund, Django. BARK has already proven its excellence when it comes to dog toys, and its approach to dog food is no different. 
Wiener dogs are surprisingly high energy. So BARK's Food's meal-enrichment toys help Django burn pent-up energy, so he is not whiny or on high alert. Django cannot get enough of his Hammer Fed Shark Dog Toy or Sugrrr Cone Dog Treat Toy.
We've been a BARK Super Chewer, BarkBox, and BARK Bright customer for more than 7 years and will continue to be loyal to this innovative, customer-centric, dog loving company for many more years to come.
BARK DOG FOOD COUPON CODE
Enter BARK Food promo code 30DJANGO on your checkout page to enjoy 30% OFF your first BARK Food order. This BARK Food coupon code won't last long, so make sure you take advantage of it sooner than later.
YOU MAY ALSO BE INTERESTED IN
Leave a comment
Comments will be approved before showing up.