10 Best Small Dog Breeds to Take Hiking and Backpacking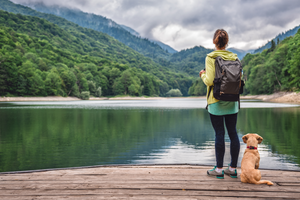 Before Mike and I (Steph) got our long-haired dachshund Django, I would have never guessed such a small little dog could keep up with us on trails and absolutely love outdoor adventures.
A few years ago, Mike and I moved with Django from New York City to Portland, Oregon. Almost every evening after work, we would drive east with Django and go hiking and swimming in the Columbia River Gorge. Django's sausage dog legs are about four inches tall, but he would keep up with us on the trails, wade in the cold mountain streams, and fetch sticks around the most stunning waterfalls. Django taught us that size truly doesn't matter when it comes to adventuring, and he inspired us to launch travel and adventure dog gear company DJANGO (djangobrand.com).
Are you looking for a smaller dog well suited for adventure? We compiled a list of the top dog breeds best suited for hiking, backpacking, and outdoor adventuring. In compiling this list we've considered athleticism, endurance, behavior, obedience, and other personality traits. Each of these dogs is small but mighty, athletic, and built for outdoor adventures.
DJANGO's Adventure Dog Harnesses and Leashes are designed for rugged adventures and everyday use. The Adventure Dog Harness features a weather-resistant and padded neoprene exterior with reflective piping, breathable sport mesh lining, supple and colorfast webbing, and four points of adjustment for a custom fit. The Adventure Dog Leash features heavy-duty and colorfast webbing, an ultra-padded neoprene handle for max comfort, and a functional D-ring. Solid cast brass hardware adds additional strength, durability, and sophistication to the adventure-ready designs.


1. Beagle
Beagles are happy, lovable, and gentle hound dogs known for their square-cut nose, big beautiful eyes, and excellent sense of smell. They are easily one of the most popular dog breeds in the United States and Canada, largely due to their gentle demeanor and smaller stature.
Beagles were bred for long hunts and have incredibly stamina. They make wonderful adventure companions and will keep up on the trails with ease. They are also determined scent hounds and may follow their nose (instead of your orders) if not leashed on the trail.
2. Dachshund
Dachshunds are playful, athletic, intelligent, fearless, and very stubborn. Standard dachshunds (16 to 32 lbs) were originally bred to hunt badgers; these doxies would burrow into the ground-dwelling animals' holes and force them out of their homes. Miniature dachshunds (<11 lbs) were bred to hunt smaller ground-dwelling game including rabbits and mice.
Despite their long and low-riding frame, dachshunds are incredibly muscular and athletic. They're incredibly loyal dogs and will happily follow their owner down any hiking trail. Although miniature dachshunds' short legs may tire sooner than yours, these smaller sausage dogs are light enough to carry or wear in a backpack when they need a few minutes to catch their breath.
Adventure dogs? Absolutely! Mike and I (Steph) have a long-haired dachshund, Django. We've traveled and adventured with him all over the world. While living in the Pacific Northwest, Django excitedly joined us on every hike. His little weenie legs kept up with us on the mountain trails, and he jumped in every freezing cold mountain stream we came across (he's obsessed with swimming). Django is the reason we launched travel and adventure dog gear company DJANGO (djangobrand.com).
3. Jack Russell Terriers
Jack Russell Terriers are intelligent, athletic, and very energetic. Originally bred to hunt foxes and other small ground-dwelling game, Jack Russells are known to be fearless and sometimes even aggressive towards other animals if not properly socialized. Because of their endless energy, love of the outdoors, and muscular build, Jack Russells make excellent hiking and outdoor adventure companions. Their energy will never tire, even after your longest adventure.
4. Miniature Australian Shepherd
Miniature Australian Shepherds are small, athletic, and highly intelligent herding dogs. Compared to other dog breeds, they are obedient and relatively easy to train.
Mini Australian Shepherds are also loyal dogs that absolutely adore their family. They make great adventure companions given their endurance, obedience, and smaller stature. Going on an aggressive hike? Bring a doggy backpack in case your mini aussie needs to rest his or her legs.
5. Miniature
 

Pinscher

Miniature Pinschers are athletic and energetic small dogs. Despite their small stature, they require a lot of exercise and would absolutely love the chance to go on a long hike or walk with their family. It is rare they Min Pins get completely exhausted, but fortunately they are incredibly easy to carry or put in a doggy backpack if they need a break from the trail or if the terrain gets too tough.

Min Pins can be stubborn and may occasionally choose to disregard their owners' commands. For this reason, obedience training at an early age is incredibly important. When trained well, Min Pins are more eager to follow their owners' commands.

Adventure dog Becks (below) is wearing DJANGO's Reversible Puffer Dog Coat in color Sage Green.
6. Miniature Poodle
Standard Poodles are incredibly intelligent, and Miniature Poodles are no different. Miniature Poodles are very smart, easily trainable, and quite sociable. They have a gentle disposition and rarely make good guard dogs.
Miniature Poodles are known for their athleticism and agility and are usually lovers of water and swimming - they were bred for duck hunting after all. They are built for the outdoors and therefore make excellent outdoor adventure companions. Whether you're going on a hike or planning a trip to a lake, poodles will absolutely love joining the adventure.
7. Norfolk Terrier
Norfolk Terriers are affectionate, intelligent, and spritely dogs originally bred in the United Kingdom to hunt vermin in barns. Similar to dachshunds, they are fearless little dogs and typically forget they stand no more than 10 inches high at the shoulder. Norfolk Terriers are also one of the more gentle terrier breeds and tend to be popular among families with small children.
Despite their smaller stature (11-12 lbs), Norfolk Terriers are highly energetic and will easily keep up with you on your next outing. When your adventure concludes, your Norfolk Terrier will gladly curl up on your lap for some love.
8. Papillon
Papillons are small but mighty dogs, largely known for their silky hair and triangular wing-like ears that sit proudly atop their heads ("papillon" means "butterfly" in French). They are also one of the most intelligent dog breeds and need regular attention and stimulation to prevent boredom.
Although Papillons only weigh 7-10lbs, they're incredibly adventurous and will eagerly look to keep up with your activities. They may need a lift occasionally given their smaller size, but fortunately Papillons are light enough to hold or carry via backpack.
9. Pembroke Welsh Corgi
Pembroke Welsh Corgis are stocky, muscular, and athletic herding dogs typically weighing 27-30lbs. They are also highly intelligent, affectionate, and easy to train. It's no wonder Pembroke Welsh Corgis are one of the most beloved dog breeds in the United States and the most favored breed among British royalty.
Corgi's athleticism and obedience makes them exceptional outdoor companions. Their affection and eager to learn make them excellent family pups.
10. Shetland Sheepdog
Shetland Sheepdogs are highly intelligent (they rank in the top 10 of all dog breeds), energetic, and vocal herding dogs originally bred in the Shetland Islands of Scotland. They are eager to learn, eager to please their owners, and typically very obedient relative to other dog breeds. Shelties' athleticism, endurance, and obedience make them an ideal adventure dog.
Additional resources
2 Responses
Leave a comment
Comments will be approved before showing up.