Allergic Reactions in Dogs: Causes, Symptoms, When to Worry, and Treatment Options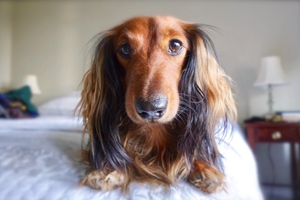 Above: 2 hours after Django received his first emergency steroid to reduce facial swelling and prevent inflammation of the throat
When our dachshund Django's nose, eyes and cheeks started suddenly swelling, we (Mike and Steph) learned first-hand about allergic reactions in dogs. 
After two visits to the emergency veterinary, one overnight emergency stay, twelve doses of prednisone (an anti-inflammatory steroid and immune suppressant), and $881 in emergency vet bills, we now know a lot about canine allergies: what symptoms to look for, common allergens, and available treatments.
Here is everything you need to know in case it happens to your dog.
What causes allergic reactions in dogs?
Just like humans, dogs are prone to allergies. Allergic reactions can range from very mild (with little or no symptoms) to incredibly serious and life threatening.
While the spectrum of dog allergens is wide, these are the most common allergens:
* Insect bites or stings
* Medication or vaccines
Food allergens (grains including corn, wheat, rice, barley and oats are common culprits)
Tree, grass and weed pollens
Mold spores
Dust mites
Cleaning products and household chemicals
Fleas and ticks
* The most serious and potentially lethal allergic reactions are often caused by insect bites, insect stings and medications (including vaccines). Although rare, dogs can experience anaphylactic reactions in response to these allergens. Anaphylactic reactions often begin with a feeling of uneasiness. Symptoms including itching and hives, swelling, wheezing and difficulty breathing can develop rapidly and must be addressed immediately.
| | | |
| --- | --- | --- |
| Allergic Reaction Type | Severity Level | Outcome |
| Anaphylactic | High | Feeling of discomfort and quickly developing into itching and hives, swelling, wheezing and difficulty breathing; Lethal if not treated immediately |
| Facial swelling (edema) | Moderate | Rarely fatal, often treated by vet with antihistamines (i.e. benadryl) and/or a regimen of anti-inflammatory steroids |
| Hives (Urticaria) | Mild | Red, itchy, raised welts; not life-threatening |
| Dermatitis | Mild | Itchiness most commonly around the ears, paws, muzzle groin; not life-threatening |

Symptoms of mild, moderate, and severe allergic reactions in dogs
Mild to moderate allergic reactions
Itchiness, excessive scratching
Hives; red skin or pink blemishes
Excessive paw licking (often due to swollen paws)
Hair loss or poor coat health
Chronic ear infections (often due to food allergens)
Gastrointestinal problems
** Facial swelling
** Although often non life-threatening, treat facial swelling seriously and see a vet immediately. In some cases, facial swelling can extend to the throat and cause wheezing and difficulty breathing
Severe allergic reactions
While less common, dogs can also have severe and potentially life-threatening allergic reactions. Immediately take your dog to an emergency veterinarian if your dog is displaying any of these symptoms.
Wheezing, gasping, difficulty breathing (these are signs swelling has extended to the throat, blocking your dog's airway)
Fainting
Nose, facial and throat swelling
Sudden vomiting or diarrhea 
Treatment Options for Allergic Reactions in Dogs
Treatments will vary based on the cause and degree of your dog's allergic reaction. Always consult your vet before giving any medication to your dog.
For mild to moderate allergic reactions, your veterinarian may recommend over-the-counter Benadryl (also known by its generic name Diphenhydramine). Benadryl is an antihistamine used to treat itching, sneezing, nose pain, and other allergic symptoms. Benadryl is one of the few drugs that vets recommend having at home in case your dog has a mild allergic reaction. 
Please consult your vet before administering Benadryl or any other medication to your dog. Although usually safe for short-term use, Benadryl could react with other medications your dog is on.
Dogs that experience severe allergic reactions - difficulty breathing, facial and throat swelling - should immediately be taken to an emergency veterinarian. Your dog will likely be given an antihistamine to immediately reduce swelling. If the antihistamine is not enough, or swelling returns after several hours, a strict regimen of anti-inflammatory steroids may be prescribed.
Django was ultimately given Benadryl and twelve doses of the steroid prednisone after his swelling unexpectedly returned later in the evening.
So what caused Django's allergic reaction?
We never actually learned the true cause of Django's allergic reaction, but our vet suspects the culprit was a bee or wasp sting.
Django and I (Steph) went on our regular morning walk at 8am. By 11am, Django's facial fur started showing little wrinkles around his eyes and nose. I'll never forget when Mike walked over to me in our apartment holding Django and asked "Does Django look different?" I immediately noticed the small wrinkles around Django's eyes and nose and, if I'm being honest, started freaking out. I googled the nearest emergency animal hospital and called an Uber on my phone.
We didn't realize it at first, but the tiny wrinkles around Django's eyes and nose were the first signs of swelling. When we were en route to the animal hospital (15-30 minutes after first noticing the swelling), Django's face had puffed up to the point where it was almost unrecognizable.
One thing that kept me calm? Django's behavior was unchanged this whole time, even when the swelling was peaking in the cab ride to the animal hospital. It seemed like our poor little guy didn't sense anything was wrong. Obviously this was a good sign. Our vet later told us that we were lucky the swelling didn't extend further. Because Django's reaction was so bad, there was a chance the swelling could have extended to his throat and blocked his airway.
As mentioned above, Django was given Benadryl at the emergency animal clinic. When Benadryl did not help his swelling subside, Django was administered the steroid prednisone. Two hours or so after arriving at the vet, Django was released and sent home with us. The swelling had largely gone down and he seemed to be on the mend.
Unfortunately Django's swelling suddenly and unexpectedly returned later the same day. Mike and I noticed the beginning signs of facial swelling around 8pm and immediately called the emergency vet. Our vet suggested more swelling was unusual and therefore had Django spend the night in the animal clinic so our little guy could be monitored. Django received a second regimen of steroids overnight and was fortunately back to his normal self the following morning.
Additional resources
DJANGO's Adventure Dog Harnesses and Leashes are designed for rugged adventures and everyday use. The Adventure Dog Harness features a weather-resistant and padded neoprene exterior with reflective piping, breathable sport mesh lining, supple and colorfast webbing, and four points of adjustment for a custom fit. The Adventure Dog Leash features heavy-duty and colorfast webbing, an ultra-padded neoprene handle for max comfort, and a functional D-ring. Solid cast brass hardware adds additional strength, durability, and sophistication to the adventure-ready designs.
5 Responses
Leave a comment
Comments will be approved before showing up.