Senior Dog Shopping Checklist: Everything You Need for an Older Dog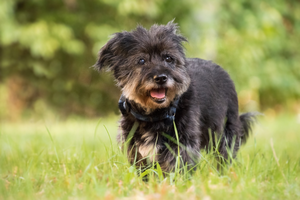 Are you adopting a senior dog from an animal shelter? Is your dog growing old and starting to gray around his nose and mouth? Dogs become senior citizens at various ages depending on their size. Small dogs typically reach senior status around age 11. Medium-sized dogs become seniors closer to 10, and large dog breeds reach old age around year 7-8.
Whether you are adopting a senior dog from a shelter or your dog is aging, here is everything you will need to make sure your four-legged friend's golden years are as comfortable as possible.
1. DOG COLLAR, HARNESS, AND LEASH
Even if your senior dog is not chasing the ball as far or as fast as he used to, he still needs to go on two, slow 15-minute walks a day. Outdoor walks stimulate your older dog's mind and lower his chance of getting canine dementia. They prevent obesity and increase the flow of blood and oxygen to his brain, joints, and muscles. Walking also reduces chronic pain and inflammation. Consider investing in a comfortable and durable dog collar, dog harness, and dog leash, so your four-legged friend can experience fresh air and new sights, smells, and sounds.
2. ID TAGS
Every senior dog needs an ID attached to his collar and/or harness. It is the cheapest and simplest way to make sure he is returned to you. It also indicates to strangers that your elderly dog is not a stray and makes him more approachable.
What should you put on your senior dog's ID tags? Include your dog's name, your full name, your primary phone number, and your permanent address. You might also consider including your dog's medical information, microchip number, and a personal message, such as "I'm lost. Please call my mom."
If you're looking for a stainless steel dog ID tag, GoTags' dog and cat ID tags come in nine different shapes and can be engraved with eight lines of personalized text. Providence also offers bold and colorful dog ID tags that are made of lightweight aircraft-grade aluminum. If there is not enough room on your dog's ID tag for special medical needs or conditions, consider DogId's Medical Alert Tags. The front side of the tag features a medical alert symbol and special needs or conditions (deaf, blind, seizures, etc.). You can also engrave your dog's medications and other important information, such as your veterinarian phone number and address, on the ID's backside.
3. HEALTHY DOG FOOD AND TREATS
Because senior dogs have a slower metabolism, they need to be on a low-calorie diet to prevent obesity. They also tend to have sensitive stomachs and struggle with constipation or diarrhea. Consider adding high-fiber foods, such as canned pumpkin, banana, or oatmeal, to your dog's diet. You can also slowly change his current commercial food to fresh dog food and/or high quality organic, all-natural, and healthy dry dog food.
When you give your older dog a treat for good behavior or during a training exercise, try one of these organic, all-natural, and grain-free dog treats. While he can count, he does not have logical thinking ability, just like a human toddler. If your senior dog is used to getting two treats between meals, break one treat into two pieces. He will be happy and will not beg you for more.
4. DOG WATER AND FOOD BOWL 
If your senior dog has trouble bending down to eat and drink because of arthritis or other mobility issues, try raised dog food bowls like PetFusion's Elevated Dog Bowls. They come in three sizes and will take the strain off your dog's neck, back, and shoulders during mealtimes.
5. DOG CRATE
If your senior dog is dealing with medical issues, recovering from surgery, or is unsteady on his feet, he will need a dog crate. It will keep him from falling down the stairs or getting stuck somewhere that he cannot get out of.
Older dogs that are less tolerant of attention can use this MidWest Homes folding dog crate to get some time alone. Senior dogs with Sundowner's Syndrome may become confused, restless, agitated, and irritable as night approaches. They also may bark without any reason and stay glued to their owners' sides. A high quality dog crate like the New World Pet Product's Folding Metal Dog Crate will lessen their anxiety and allow them to get some rest. 
If your senior dog cannot hold his bladder, he may accidentally potty in his crate. If he is wobbly, he is also more likely to fall or bump into his water or food bowl. Consider blocking off one room with Carlson's extra-wide walk-through pet gate. It is made from steel and expands to fit openings between 29 and 36.5 inches wide. It also has a safety-lock feature and wall mounts for added security.
6. ORTHOPEDIC DOG BED
Elevate your senior dog's 16-18 hours of sleep with a Sealy Lux Quad Layer Orthopedic Dog Bed. The memory foam mattress has a charcoal base that absorbs dog odors. It is also infused with a cooling gel that reduces swelling, stiffness, and joint pain. 
Django has a Runyon Orthopedic Pet Bed by Brentwood Home. We've had this bed for almost 4 years now and love it. Django sleeps on it every single night and often relaxes on it during the day. Brenwood Home's pet bed has a 3-year limited warranty and is covered in a quilted, machine-washable cover. It is also stuffed with two layers of handcrafted CertiPUR-US certified foam. The top layer of memory foam cradles your senior dog's aching joints. The second layer of memory foam provides a sturdy foundation, so he can easily climb out of bed. If you're looking for a very high quality dog bed that will last through the years, this is the one to get.
7. MOBILITY AIDS
If your senior dog struggles to get up on the bed and couch or land awkwardly when he jumps off, invest in this high rated dog ramp. With a slip-resistant surface and rubber grippers on the bottom, it has a built-in handle and folds for easy storage. We also like these best-selling pet steps on Amazon. They have built-in safety side rails and non-skid feet.
Senior dogs are "at-risk" for Intervertebral Disc Disease Type II. When your older dog jumps off furniture, it puts stress on his spine and can lead to a disc injury. This heavy-duty LOUBANI sling will help your older dog stand up, go up and downstairs, get in and out of vehicles, or take a bathroom break outside. It features padded handles, a soft fleece lining, and adjustable straps that will work with any dog breed. 
8. POOP BAGS AND POOP BAG HOLDER
Senior dogs need to go potty 4-6 times per day. With reasonably priced poop bags like AmazonBasics unscented dog poop bags (my go to product for our dog Django) or EarthRated extra thick dog poop bags, you will no longer have to scramble for plastic shopping bags or stuff one flimsy grocery store bag into another and then another.
Want a discreet poop bag dispenser? DJANGO's chic and slightly oversized waste bag holders will accommodate poop bags and other small essentials. Need something for nighttime adventures? Consider Potaroma's LED Flashlight Poop Bag Dispenser. It can be hooked to your backpack or your dog's leash or collar. It also comes with three extra long-lasting alkaline button cell batteries.
9. DOG PEE PADS, DOG DIAPERS, AND ENZYME SPRAY
Senior dogs can be as messy as puppies. If your senior dog has arthritis, dementia, or kidney disease, he may have an accident while he stands or walks, without spinning or squatting first. He might also leak urine or poop in his sleep.
If your dog struggles with incontinence, consider putting an Amazon Basics Dog and Puppy Pad in each room. You can also use these popular disposable dog diapers on Amazon. Looking for eco-friendly washable dog diapers? Try Wegreeco's bright and colorful Washable Dog Diapers. They have a soft, moisture-wicking lining that will prevent your pup from going on the couch and carpet.
Need to clean up your senior dog's mess? Use an enzyme spray like Woolite INSTAclean Permanent Pet Stain Remover to remove urine, feces, vomit, tracked-in mud, and blood from your furniture and floors within 30 seconds.
10. JOINT CARE SUPPLEMENT
A 2017 study found that 80% of senior dogs suffer from osteoarthritis and chronic pain. If your aging dog does not want to climb stairs, play, or walk, a joint-care supplement like Doggie Dailies' Advanced Hip and Joint Supplement for Dogs can cushion and protect his cartilage, connective tissue, and joints.
11. EAR CLEANERS AND EYE DROPS
Senior dogs suffer from diminishing hearing and failing vision, just like we do. Cleaning your dog's ears with these Pet MD's Dog Ear Cleaner Wipes can ward off ear infections that are caused by food or environmental allergens like dust mites and pollen. Ear mites also eat the oil and wax in your dog's ears. While the parasites do not bite his skin, they can cause him to shake his head excessively or scratch his ears with his paws. Dogs between the ages of 7 and 11 also tend to have dry eyes. Keep your aging dog's eyes moisturized and bright with dog eye drops like Dr. Goodpet Natural Vitamin C & Zinc Eye Drops.
12. DOG SHAMPOO AND NOURISHING BALMS
Because senior dogs have sensitive dry skin and rough coats, it is important to choose an ultra-gentle hypoallergenic dog shampoo. Older dogs are prone to dry or cracked noses and paws. Consider using nourishing balms like Natural Dog Company Snout Soother. It is made with vegan ingredients, such as Grapeseed Oil and Vitamin E, that deeply moisturize to soothe pain and promote healing.
13. NAIL CLIPPERS
Because senior dogs do not pound the pavement regularly, they need their nails cut weekly. Boshel's Dog Nail Clippers are sharp enough to trim your dog's nails with one cut. They also feature a safety blade that prevents you from cutting them too short.
14. DOG TOOTHBRUSH AND TOOTHPASTE
By age 3, more than 80% percent of dogs have gum disease (also known as periodontal disease). Gum disease is most common in toy and small dog breeds. It can cause your senior dog's jaw bone to weaken and fracture. Gum disease can also cause chronic nasal discharge and heart, kidney, or liver disease. Brush your elderly dog's teeth with a dog toothbrush or dog finger brush (toothpaste optional). Consider adding a dog dental rinse like Oxyfresh Premium Pet Dental Care Solution Pet Water Additive to his water bowl. The non-toxic, odorless, and tasteless formula will protect his teeth and gums while fighting plaque and tartar formation.
15. DOG TOYS
Your senior dog still needs high quality plush, interactive, and/or tough dog toys even though his puppy years are far behind him. When you play with your aging dog, it lubricates his joints and builds muscle tone. It also keeps his mind sharp and lowers his risk of canine cognitive dysfunction. 
To prevent your senior dog from getting bored, rotate his toys weekly. Make only 4-5 toys available at a time. If you want to introduce your dog to new toys each month, consider signing up for BarkBox and/or Bark Super Chewer. BarkBox will send you two themed toys, two all-natural bags of treats, and a chew. Bark Super Chewer has two natural rubber toys, two meaty chews, and two full-sized bags of dog treats. Read our honest and in-depth Super Chewer Box review (and see unboxing pictures!) here.
Another popular monthly subscription box for dogs is KONG Box. Learn more here and sign up for a subscription to KONG BOX. Each KONG Box comes with an assortment of high quality KONG products that are based on your dog's age, size, personality, and chewing style.
16. DOG CARRYING BAG
If your senior dog sniffs around the dog park but goes on strike halfway home or has an illness that prevents him from either walking very far or walking at all, consider a modern and stylish open-ended pet purse. 
DJANGO's best-selling waxed canvas and leather pet travel tote is an excellent example of a high quality, functional, and comfortable pet purse that works well for senior dogs. Rated the best dog carrier for hands-free travel by the American Kennel Club, it has a soft, silky, and water-resistant lining and features sturdy leather handles, a cozy sherpa footpad, and an adjustable bag-to-harness tether. It also has four exterior and interior zip pockets to make sure your dog walking essentials (high-value training treats, a collapsible water bowl, dog waste bags) do not get lost in the fray.
Planning on flying with your senior dog? Consider an airline-approved pet travel carrier like this Henkelion one. In the passenger cabin, your pup has to stay in his pet travel carrier with the door closed at all times.
17. COLD WEATHER DOG APPAREL
Senior dogs with age-related diseases are sensitive to cold weather. Because they have thinner skin and coarser coats, they need to be protected during the chilly autumn months and frosty winter season.
Keep your older dog cozy and warm with a high quality performance dog jacket like DJANGO's best-selling City Slicker All-Weather Dog Jacket. In sub-zero degree temperatures, layer his clothes. When the clouds roll in and the temperature plummets, slip the Reversible Puffer Winter Dog Coat over the DJANGO dog hoodie to keep heat against his body.
Additional Resources
1 Response
Leave a comment
Comments will be approved before showing up.