13 Best Custom And Personalized Pet Gifts Every Dog Owner Will Love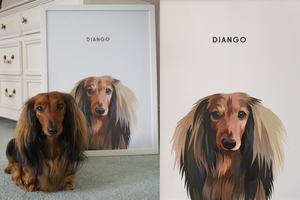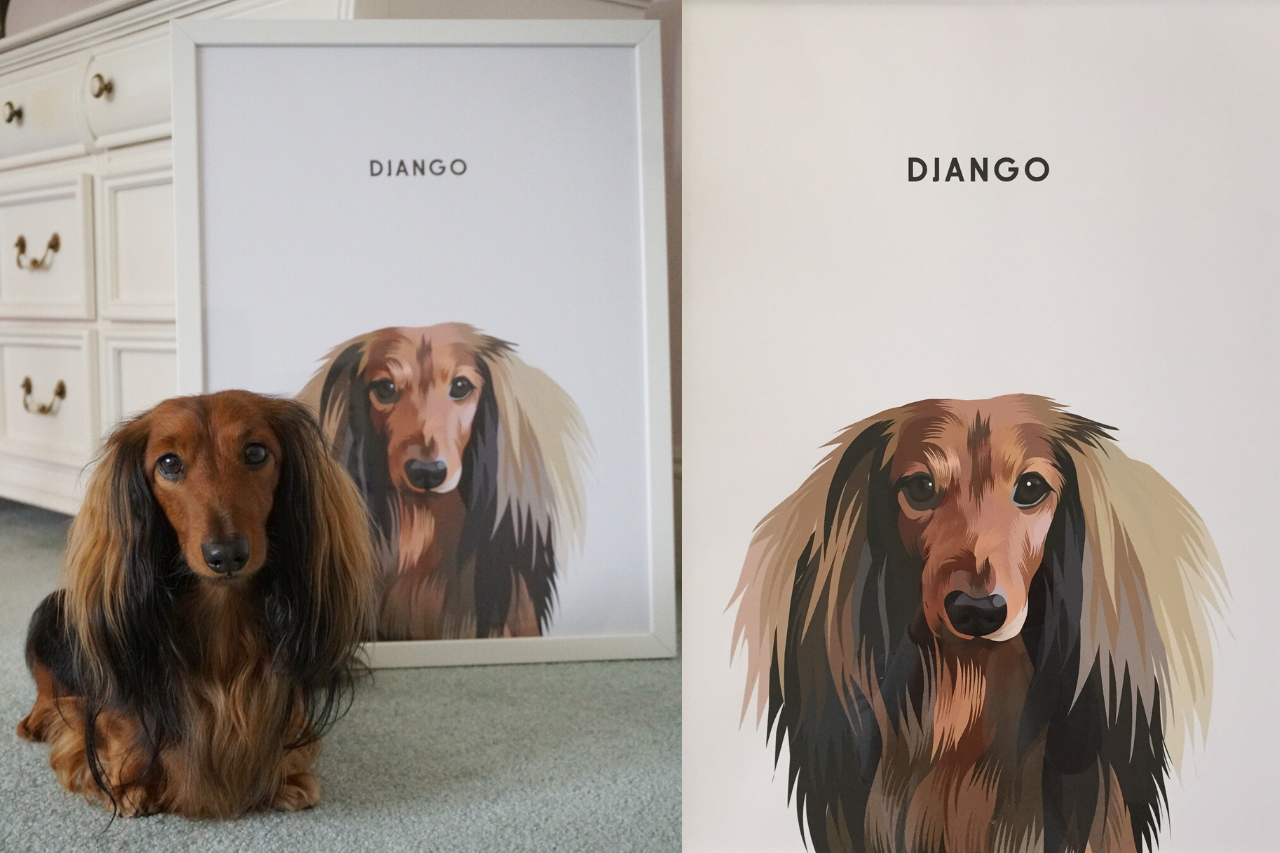 Disclaimer: Some of the links below are affiliate links. This means if you purchase an item, we may receive an affiliate commission at no extra cost to you. We only recommend products we know and love, and all opinions expressed here are our own.
We're a small team of dog lovers that have a not-so-small obsession with our four-legged family. Do you also treat your dog like a child? Take him or her everywhere with you? Have a gazillion-and-one photos of him or her on your phone?
If this sounds like you, we found the pawfect gifts for you and your family. In this DJANGO Dog Blog article, we round up the best custom pet gifts and personalized dog products for dog lovers. We include the top custom pet portraits, custom pet blankets, and even custom pet socks! Scroll for the most epic and high quality custom pet products that you'll want to order today.
BEST CUSTOM PET PORTRAITS 
West & Willow has many custom pet gift options, from pet bowls to pet greeting cards. Their modern pet portraits are printed on fine art paper. They come with a hardwood frame and pre-attached ready-to-hang components. Their custom pet portraits are designed by digital artists without using any apps or filters. Choose a white, a dusty pink, a charcoal gray, or a limited edition background (e.g., pampas grass and sage).
A few years ago, Mike and I (Steph) ordered a custom pet portrait of Django for my home office. We were amazed by the perfect likeness of our adorable long haired sausage dog. We were also proud to learn that West & Willow donates part of its proceeds to Best Friends Animal Society, the largest sanctuary for homeless animals in the USA.
Limited time only! Use this link to get 15% off your West & Willow custom pet portrait.
Paint My Pooch offers a range of custom gifts for dog lovers, including pet phone cases, pet mugs, and pet blankets. They are the perfect way to celebrate the bond between you and your canine. 
The custom pet portraits are printed on museum grade fine art paper that is guaranteed to last more than 50 years without fading. The 230 gsm fine art paper is 100% carbon neutral and sustainably sourced. Paint My Pooch's custom dog paintings are also handcrafted by talented and passionate digital artists. They can include up to 3 different types of pets. These personalized pet photo gifts can be digitally downloaded or framed. Simply upload your favorite pet photo and select a background color and font to receive your custom masterpiece in 7 business days.
Looking for the perfect gift for a hopelessly devoted pet parent? Max & Modern offers a range of custom pet home decor, from pet pillows to canvas pet portraits.
Their custom pet paintings have a gallery standard depth of 1.25 inches and come in 3 sizes. Professional artists carefully hand paint your pet's goofy smile, droopy ears, or warm human like eyes. You can include up to 3 pets of any species in your portrait. Unlike the other custom pet portrait companies on our list, Max & Modern can create a custom "Rainbow Bridge" portrait of a lost pet from low quality photos.
BEST CUSTOM PET APPAREL
Any dog connoisseur will gladly accept a pair of DivvyUp custom pet socks. These bestsellers — also available in many pre-designed themes, patterns, colors, and sizes — can be personalized with your dog's face. They come in 14 different colors and 4 sizes. These personalized pet socks are 96% polyester and ship within 10 days of being ordered.  We think these would top the list of casual office attire.
This modern and rad shop has some of the coolest dachshund-themed apparel and accessories for women including custom pet t-shirts. I myself own a few of their items and can highly recommend them If you're looking for additional gift ideas for sausage dog lovers, check out our Dachshund Lovers Gift Guide.
BEST CUSTOM PET PILLOW
All About Vibe
allows you to create customized pet pillows using your favorite pet photo within seconds. You can choose between a custom square pet pillow or a custom pet shaped pillow. The 100% polyester pillow comes in 3 different sizes and 2 different fabric types (i.e., indoor and outdoor). Each custom pet pillow is made on demand by artisans in Chicago, Illinois.

All About Vibe also makes custom pet pillow key chains, allowing you to tote your pup around with you wherever you go. These tiny custom pillows on a ring are ideal personalized pet gifts due to the low price point and high wow factor. Looking for a custom pet pillow company that gives back? All About Vibes proceeds support several charities, including the Family House, Make a Wish, Save the Children, and Toys for Tots.
BEST CUSTOM PET PHONE CASE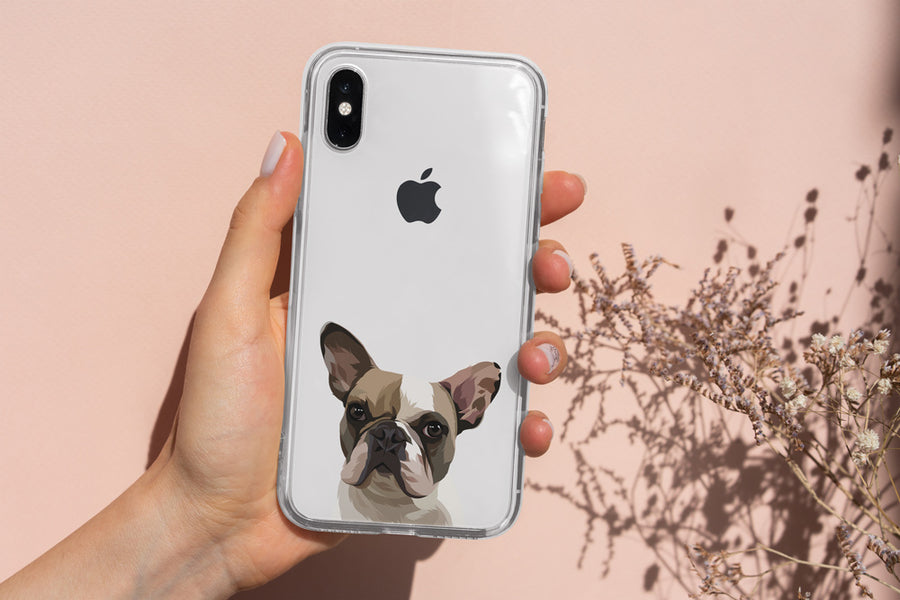 West & Willow makes trendy and unique custom iPhone cases. They sport a solid back, flexible sides, and a one of a kind digital illustration of your pet. The popular phone cases are made semi transparent, impact resistant Thermoplastic polyurethane (TPU).
Get 15% off your West & Willow custom pet phone case order with this link.
BEST CUSTOM PET BLANKETS
If you are a dog lover you probably already have a dog blanket—you know, the one that is technically yours but your pup loves to snuggle in. Now, you can actually give your dog his own cozy sherpa throw emblazoned with his portrait. These soft fleece blankets come in three sizes: 30" x 40", 50" x 60" and 60" x 80". You can choose from seven background colors as well. Paint My Pooch's custom pet blankets also make A+ gifts for dog fans of all ages. 
If you are into modern artwork like American Gothic, Crown & Paw personalized art blankets will transform your bedroom into an art gallery, while putting your pup proudly on display. These lightweight sherpa blankets are printed using never fade ink and come in 3 different sizes. Crown & Paw allows you to include up to 5 pets on your custom pet blanket. The Houston-based company even offers free previews and unlimited revisions. It also supports Humane Society International's work to end the dog meat trade in Asia.
Printy Pets custom dog blankets are super simple to buy. Simply upload your favorite pet photo and choose one of the 8 solid and bold backgrounds. In 1-2 weeks, Felix or Fido will be turned into at least a 30" by 40" blanket (i.e., Puppy Size)!  To help end the Asian dog meat trade and kill shelters in the U.S., check out Printy Pet's other custom pet gifts.
BEST CUSTOM PET STUFFED ANIMALS
Petsies makes custom stuffed animals that look exactly like your pet. After uploading 3 photos of your pet from different angles and filling out a quick questionnaire about your pet's breed and distinguishable markings, you can choose his posture (e.g., sitting, standing, laying). Then a team of designers uses premium polyester fur and air brushes to capture your pet's likeness. Petsies come in three sizes: a 10" mini, 16" regular, and 24" large. Because every Petsies order is handcrafted, it usually takes 4-6 weeks for your custom stuffed animal to arrive.
Are you looking to honor your current dog or memorialize a past pup?
Cuddle Clones
captures your pooch in stuffed animal form. Simply upload 9 photos of your dog (e.g., tail, face, back of neck, etc.) and answer questions about his age, eye color, ear positions, distinguishing marks, and personality traits. Over 8 weeks, expert artists will handmake your custom dog plush using the highest quality synthetic plush materials.
Cuddle Clones also offers a full refund (minus shipping costs) on its custom stuffed animals for 30 days. Each purchase also provides at least two meals and a toy to needy animals.
BEST CUSTOM PET COFFEE MUG
Does the dog lover on your gift list like dogs? And coffee? These stunning custom pet mugs by Alpha Paw are essential for the cupboard.
OTHER DJANGO DOG BLOG ARTICLES YOU MIGHT LIKE  
1 Response
Leave a comment
Comments will be approved before showing up.