10 Best Products for Dogs Recovering from IVDD Surgery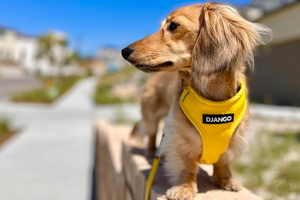 Intervertebral Disc Disease (IVDD) is a diagnosis that all dog owners dread. We (Mike and Steph) unfortunately saw our beautiful long-haired dachshund Django go through IVDD surgery earlier this year after suffering a serious back injury. Django is now in the recovery process and fortunately getting stronger every day.
IVDD is one of the most common causes of back injury in dogs and is sometimes described as a slipped, bulging, ruptured, or herniated disc. It often affects Chondrodystrophic breeds like dachshunds, corgis, and basset hounds—dogs that often have short legs and long backs and are most susceptible to prematurely aged disks. Of course, even non-chondrodystrophic dog breeds grow more susceptible to back problems as they age and can therefore suffer from IVDD.
In most cases, dogs with IVDD will recover fully and live happy, normal, and active lives. Of course, the path to recovery after an IVDD diagnosis is never easy. Dogs with IVDD always need strict crate rest, and many also need complicated and expensive back surgery like our sausage dog Django.
While recovering, your dog's movement must be restricted to a crate or pen, and he or she may not be able to walk without support. Your pup may also experience incontinence for several weeks and need help going to the bathroom via bladder expression. In other words, the recovery process can be difficult and daunting for us loving dog parents.
Fortunately, there are dog products on the market that help make your dog's IVDD journey and recovery easier. Here are 10 products that Mike and I found helpful and essential throughout Django's IVDD recovery.
10 Best Products for Dogs Recovering from IVDD Surgery
After a dog is diagnosed with IVDD, strict crate rest is essential. Whether your dog has a mild IVDD diagnosis or is recovering from IVDD surgery, limiting his or her movement is incredibly important and will help prevent the IVDD symptoms and injury from getting worse.
Consider investing in a high quality and reasonably priced dog crate like MidWest Homes' Double Door Folding Wire Dog Crate. This is the exact crate we have for Django.
This suitcase-style crate has both front and side access doors, easy-to-use slide-bolt latches, and a removable and leak-proof pan. It also has roller feet that will keep your floors scratch-free. There is an optional plastic divider panel that lets you section off a sleeping space your recovering pooch. The crate comes in 7 different sizes. For reference, we own the 36 inch long crate for Django.
Dogs recovering from IVDD need a lightweight, padded, supportive, and comfortable dog harness. For dogs recovery from surgery, the harness must also not interfere with the incision scar.
Named the "Best Everyday Wear Harness for Dachshunds" by Dachshunds Station, our Adventure Dog harness is a wonderful option for most small and medium-sized pups recovering from IVDD. The deep and narrow dog harness body is padded and lightweight and designed to prevent chafing.
The back-clip dog harness features a lightweight webbing back panel that does not extend more than a few inches. This makes it a wonderful option for dogs whose incision is midway down the back (or lower) as it will not interfere with the sensitive and healing incision area. The dual side-release buckles also allow you to secure the harness around your pup's body without lifting his or her weak and unstable legs.
DJANGO dog harnesses are available on both djangobrand.com and Amazon (amazon.com/django) with free U.S. shipping.
This neoprene support sling was a lifesaver for Mike and I after Django's surgery. The sling gently loops under the dog, just in front oft the back legs, and provides ample support when your dog's back legs are wobbly, dragging, and/or not functioning at all. The GingerLead also allows the dog walker to stand upright when supporting a recovering dog.
Made in Colorado, this unisex lifting aid adjusts from 28-69 inches and has a padded handle and a 1.5-by-6 inch belly support pad. It comes in various sizes for small, medium, and large dogs. The mobility-assistance leash also seamlessly connects to our IVDD-friendly dog harness.
One of the most difficult parts of Django's recovery was dealing with his incontinence in the first two weeks immediately after his IVDD surgery. Glad's Activated Charcoal Training Pads will make dealing with any incontinence issues easier on both you and your dog.
These disposable potty training pads boast a five-layer design to maximize absorbency. An activated carbon layer also neutralizes odors. Each pad features a leak-proof polyethylene liner and a quilted top with a built-in pheromone attractant. 
Although accidents will undoubtedly happen during your dog's IVDD recovery, at least these pads will keep your pup's crate clean and make your life easier in the process.
While it is not a glamorous task, washing your dog's lower belly and butt will be necessary if he cannot hold in his pee or poop after IVDD surgery. These lavender-scented wipes are very effective for post-IVDD surgery cleansing, wiping, and scrub downs. They are formulated with all-natural shea butter, aloe vera, and chamomile and are gentle on your dog's sensitive skin and nether regions.
This double diner is perfect for pups recovering from IVDD surgery. With 3 different height options (i.e., 2.7 inches, 8 inches, and 12 inches), it eliminates unnecessary neck and back strain. The Pet Zone Elevated Feeder also has two stainless steel bowls. They hold 7 cups of fresh dog food, raw dog food, dry dog food, or water. For post-meal cleanups, the removable food bowls can be put in the dishwasher. The durable plastic stand can also be given a quick once-over with a multi-purpose disinfecting wipe. Bonus: this raised feeder has collapsible legs. Simply tuck them under the feeding platform and take the feeder on outdoor adventures (or just to another room).
One of the most important parts of IVDD recovery is limiting your dog's movement so he or she doesn't get re-injured. We use this brightly-colored, heavy-duty plastic play yard for our dachshund Django. The 8-panel dog pen gives him room to walk and play with plush dog toys while keeping him restricted to a safe space. This is especially handy when we are not supervising him and need a spacious and safe space for him to relax.
This lightweight pet playpen stands 26 inches tall and encloses 34.4 square feet. With the Superyard Wall Mount Kit, you can even use it as a dog gate, giving you a 16-38 square foot barricade. The North States Superyard can also be set up in seconds. Made in the U.S., it has skid-resistant pads and a convenient carry strap, so it can easily be moved indoors or outside.
If your dog is anything like our pup Django, he or she may try to excitedly squirm out of your arms when you are carrying them. To prevent your pup from twisting in your arms and re-injuring their back during the IVDD recovery process, consider investing in a high quality, sturdy dog carrier bag like this waxed canvas and leather one.
DJANGO's Dog Carrier Bag is the safest way to carry your rehabilitating dachshund up and down steep stairs and across slippery services. This pet travel tote features a bag-to-harness safety tether. Unlike other dog bags which bag sag, this one has a very sturdy sherpa footpad that supports your dog's weight and spine.
This dog carrier bag was named the "Best Dog Carrying Bag Overall" by Business Insider, and it is easy to see why. It is available in three colors (i.e., black, navy blue, and olive green) and two sizes: medium (for dogs up to 15 lbs) and large (for dogs up to 30 lbs).
While your eager-to-play dachshund should not roam outside after back surgery, this three-wheeled dog stroller can provide a stimulating view of the outdoors. The 11-pound collapsible pet stroller has a roomy interior. It also has a hooded peak-top window that will give your pup an excellent standing view.
With a water-resistant exterior, this BestPet stroller is the easiest way to transport your pooch in and out of the vet's office for IVDD checkups. This best-selling dog stroller boasts a large undercarriage. It lets you bring along comforting dog toys and healthy dog treats. It also has a padded foam handlebar and two coffee cup holders. That means you will not have to eke through IVDD physical therapy without your morning joe. 
KONG's Classic Dog Toy will help your recovering dog release pent-up energy and provide must-needed stimulation during long hours of extended crate rest.
The natural red rubber dog toy has a hollow center that can be filled with high-quality dry dog food or dog treats. To keep your dog from running after pieces of scattered kibble, soak them in water for at least 30 minutes. To seal the filling, smear meat-based baby food or wet dog food over the KONG's opening. Want to make a long-lasting frozen treat? Stuff the KONG with fat-free yogurt, and put it in a plastic bag. After 2 hours, remove this interactive dog toy from the freezer and briefly wipe it down with a warm damp cloth.
DJANGO engineers high quality, modern, and durable travel and adventure gear for dogs and dog owners. Our mission is to help you and your dog get outside, travel and adventure more often.
DJANGO Dog Blog is a U.S. dog blog focusing on domestic and international pet travel, dog health, and dog training. Named as one of the top 100 U.S. dog blogs by FeedSpot, DJANGO Dog Blog also reviews and highlights high quality pet supplies, accessories, and products.
Follow DJANGO on Facebook, YouTube, Instagram, and Pinterest. Learn more about our long-haired "tweenie" dachshund Django here.
ADDITIONAL RESOURCES
Leave a comment
Comments will be approved before showing up.